In approving the expenditure bill to TCU at the client formed arrears in payment. If the customer pays the purchase immediately, in cash from him to be taken in cash corresponding amount. The main way to open the cash register receipt order is pressing the "Pay" in the expenditure invoice (in the context menu "Sales Invoice" tape):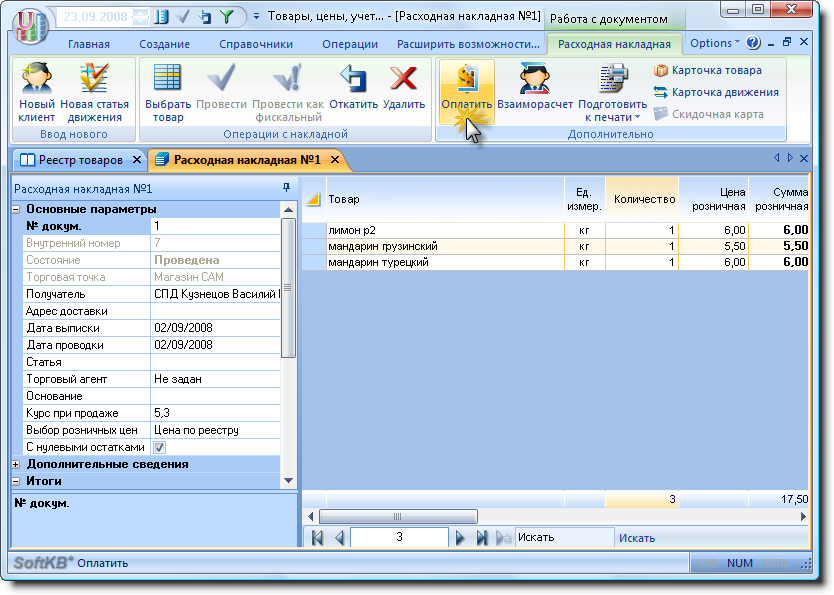 After clicking "Pay" offers of credit cash order from the fields filled in according to the document gave rise to it - the expenditure bill.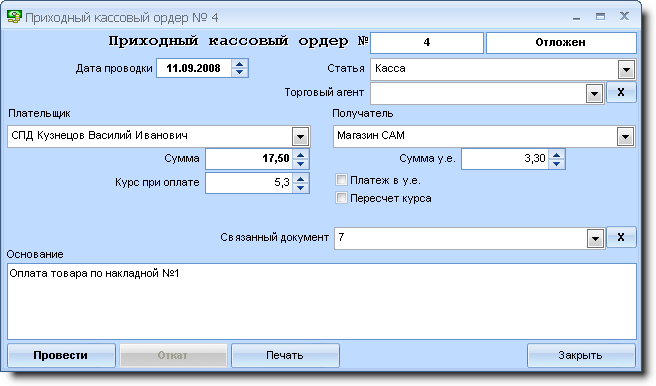 Upon approval of the document on payment of the invoice is closed and the balance of the customer returns to its original state. Want to note that the payment amount may differ from the sum of the invoice. Powerful system of mutual TCU can keep detailed records on each customer, tracking his debt to you or your debt to them (if the customer will pay more than necessary) for any period of time and at any time.
However, do not always pay for the expenditure bill comes at a time approved bill itself. The program is an opportunity to take money from a client without having to open this invoice. In this case, the first in the registry, the tree of retail outlets, select the point at which the cashier made ​​money. Then click on the menu "Create"- "Cash"- "Income".

Another way to open the cash register receipt order - using the context menu. Right-click on the product list, select the menu item "Enter the new"- "Income":
Please note that recently opened in two ways credit cash order field "Payer", "The sum", "Reason, " "Article" are empty and for proper posting of the document should carefully fill in these fields, as well as monitor the accuracy of the field "Recipient" - funds will get to the cashier of this particular outlet.

Need to make sure you have the right to have an operation this coming cash outlet. User rights set by the administrator of the program TCU in Directory of users - the procedure described in detail in the the Help topic "Filling the main directories"
---
See also Help