Disposable cash order involves the payment of funds from the cash register. This can be calculated with suppliers, and the calculation with the staff to compensate for the costs incurred, travel, etc. In order to better control costs, use the article as a sign of moving funds.
For example, we make payments to employees of our enterprise 115.50 USD for gasoline used for delivering goods to retail outlets. To describe this payment using the article "fuel". Please note that this article is passive, ie it does not cause the debt officer. More about the articles read in topic "Filling the main directories". To open an expendable cash order, select from the list of documents or in the main menu, enter the new "-" Payments "and fill in accordance with the task.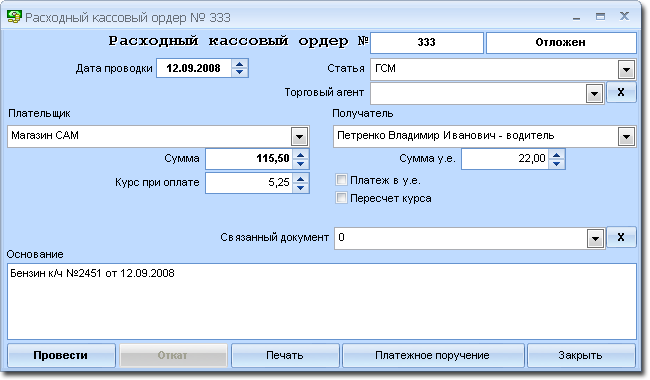 You can now approve the document, print it out and signed by the recipient of a warrant to attach to the box office records of the day.

Need to make sure you have the right to conduct operations cash flow of the outlet. User rights set by the administrator of the program TCU in Directory of users - the procedure described in detail in the the Help topic "Filling the main directories"
See also Help