Situation may arise when the client terminates its activities, and you know exactly what you pay for your goods you no longer wait. You do not need to pull this debt, you can write off on its own losses. Or are you someone your product is presented, and you know that paying for it is not followed, etc. For this purpose the operation of debt forgiveness, debt which will close the customer a certain amount, but it does not take place as a cash transaction and will not cause changes in the balance of cash. If the customer does not return this debt (for whatever reason, go into the details we will not), what's the point in that he always figured in the calculations and reports? For example, a retired officer, the debt has not returned.
The most frequently encountered in practice, the case is the assignment of the original debt client. The company, which decided to work for TCU, previously led business activities and now, at the beginning of the program, you must enter not only the remnants of of goods in a warehouse, but also the start of debt clients (or in front of customers).

Need to make sure you have the right to conduct operations to debt management. User rights set by the administrator of the program TCU in Directory of users - the procedure described in detail in the the Help topic "Filling the main directories"
The list of documents or in the main menu, press the "Enter the new"- "Debt management". Open cash order. Fill in the fields, paying special attention to the correctness of filling in the "Payer"and "Recipient ".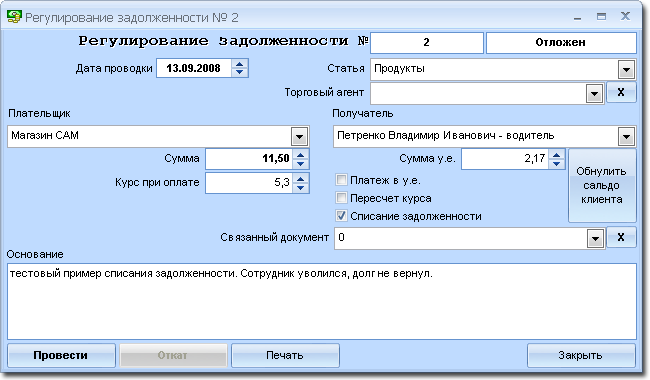 Following the approval of the document in the system of settlements can be seen that this client has disappeared debt. Of course, the state of cash has not changed, there was the usual debit, at a loss for the company.
Another feature - if the amount in the cash order is negative, then the customer's balance will decrease. This means that our debt to the client will decrease (if we were to him), and its in front of us - will increase (if it was due).
Recall that the shortfall means the customer of his debt to us, the surplus - our debt to the client.
See also Help