Client card
---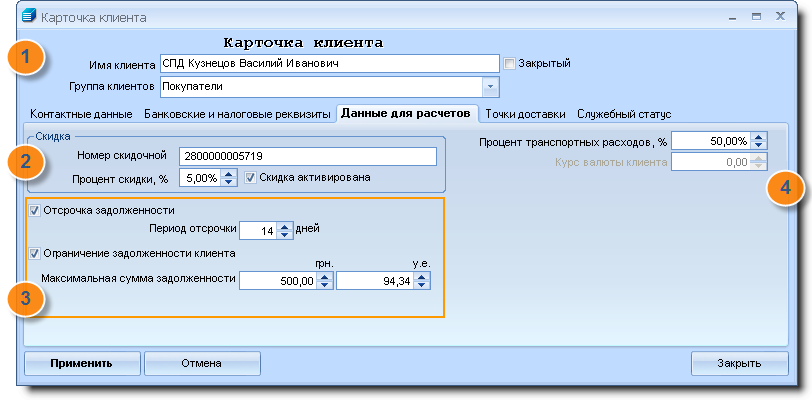 1. Client name address and customer groups. Checking the "Private" will lead to what the client will not appear in the list of clients of various documents, ie, to choose that Client will be impossible.
2. For stores. If sales go through the workplace of the cashier, has the ability to assign individual discounts to customers. In this case, the client is given a discount card. Card number, and sign off activity discounts stored in the customer card. Additional information about workplace of the cashier - on site http://andriy.co
3. Terms of the buyer, use credit when purchasing:
•

Postponement of debt

. After the specified period of time since the outbreak of the debt next shipment of goods on credit will be blocked (no debt)
•

Limitation of indebtedness

. If the sum the expenditure invoice when the goods are shipped to the credit given to the client exceeds the maximum permissible amount, then the shipment will be blocked.
4. Additional data used in the calculations with clients:
•

The percentage of transportation costs

- the value is involved in forming the cost of the arrival of goods. If the client is a supplier, then a credit invoice under "Overhead provider" will be an amount equal to the value of this parameter is multiplied by the amount of purchase price. Thus, the cost of of goods increases.
•

Currency Client

- an individual course for 1 cu. Becomes active only when you select "

Integrate course the arrival of reference clients

" in the system settings section "Money and Prices".
---
See also Help
Acceptance of goods at the warehouse