Route list
---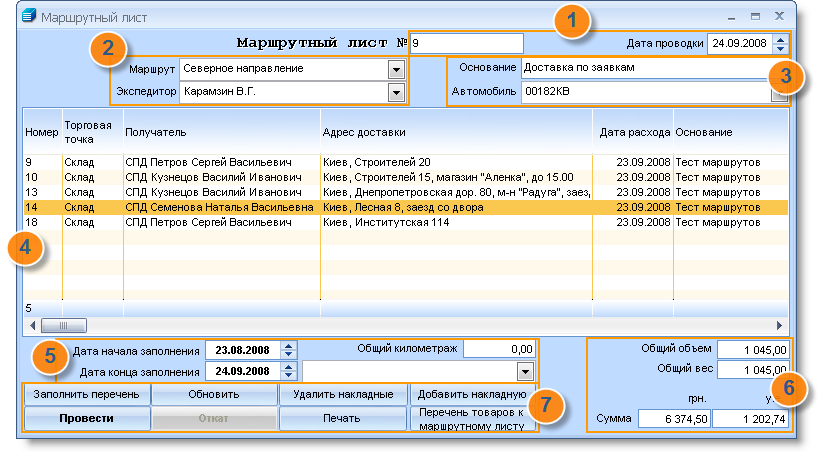 1. Document number and its date of approval. Document number may be edited.
2. Name of the route. Chosen from a list introduced routes. Forwarder, accompany the goods. Forwarders previously entered in the list of clients.
3. The car, the goods on the route.
4. The list of bills included in this routing sheet.
5. Here we establish the permissible period of approved spending bills that are automatically entered into the routing sheet. From the drop-down list, you can also choose the invoices that are automatically not included in the routing and add them to list the "Add Note". It also displays the total distance along the route.
6. Statistical data on the itinerary and the amount of itinerary (the sum of all the included overhead).
7. Group of control buttons.
| | |
| --- | --- |
| • | Fill in the list - routing sheet is automatically populated patch, which belong to the chosen route and the date of approval of fall during the "5". |
| | |
| --- | --- |
| • | Update - after editing the list of bills in the itinerary, as well as after their return to the previously deferred document updates the list of bills to reflect the changes that have occurred with the overhead. |
| | |
| --- | --- |
| • | Remove overhead - remove from the list of selected invoices invoice for excluding it from the itinerary. Bill itself is not deleted and can be turned into another routing. |
| | |
| --- | --- |
| • | Add invoice - after selecting a different bill from the drop down list above it can be added to the total list of bills to be included in the trip sheet. |
| | |
| --- | --- |
| • | Approve - to approve the document. |
| | |
| --- | --- |
| • | Undo - cancel the approval of the document. |
| | |
| --- | --- |
| • | Print - prints the routing. |
| | |
| --- | --- |
| • | The list of items - prints a list of items for the current itinerary. Used to solve the problem of optimal vehicle load. |
---
See also Help